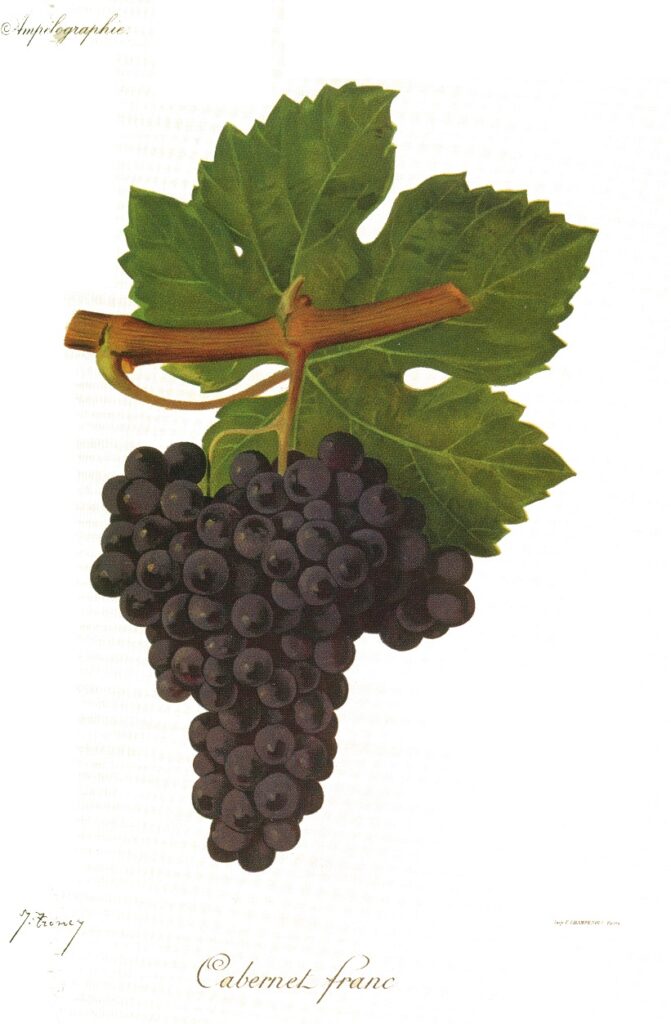 3 minute read
last updated 23 May 2023

After looking at Aglianico and Barbera, let's look at Cabernet Franc! (Can you see what I'm doing here?). You might be forgiven for thinking is this an interesting choice, given that Cabernet Sauvignon, the King of the Black Grapes, might feel like a more natural option … but I'm a fan of Cab Franc and I really want to use this series of posts to try to highlight some of the grape varieties that slip under the radar.
Cabernet Franc is a very important grape variety – it's the genetic father of Cabernet Sauvignon and it's European homeland is widely considered to be Bordeaux, although genetic work indicates it may actually hail from the Basque Country in Spain. It is grown throughout France and the other place where it shines on its own (compared with Bordeaux where it's used in a blend) is the Loire Valley.
The wines are often comparatively pale in colour and are much lighter than, say, Cabernet Sauvignon. When sufficiently ripe, it shows off leafy and herbaceous characters with a touch of red fruit.
Australia
Cabernet Franc has been grown in Australia since James Busby brought vines here in the 1830s. The earliest mention of the grape in Australia seems to be quite late – around 1904 (when the Victorian Department of Agriculture was inviting tenders for various grapes, including Cab Franc, grafted on to US rootstock). Today, Cabernet Franc makes up a tiny percentage of our crush – 0.1%, with most being grown in the Limestone Coast region*.
The World
In France, Bordeaux and the Loire – with the Loire actually slightly more important than Bordeaux. The wines of the Loire are single varietal, so Cabernet Franc is grown in its own right, and not as part of an insurance policy against Cabernet Sauvignon not ripening.
It is also grown in much smaller quantities in north eastern Italy and Spain. There are tiny plantings in eastern Europe, but a little more found in the eastern Mediterranean, in sunny spots such as Cyprus, Turkey and Malta.
In the new world, California, Canada and Uruguay (as well as Australia) all have plantings.
The Key Facts
although considered 'mid-ripening' the fact that Cab Franc ripens earlier than Cab Sav means it's easier to ripen fully
key descriptor is leafy
if not sufficiently ripe, can be quite aggressively herbaceous – blame that on methoxypyrazines!
the key regions are Bordeaux (blends) and the Loire (single varietal)
Food Pairing
Because it's usually a lighter style of red wine (when alone) it pairs well with certain chicken and fish dishes. Because of the wine's slightly herbal and leafy character, some pan-fried chicken with a tarragon cream sauce would work beautifully. Another great pairing would be lamb (again, served with tons of herbs – perhaps a salsa verde or a herb crust) and it is a grape variety that will also work well with vegetarian dishes, such as a spinach and feta pie, or grilled asparagus or artichokes.
Anything Else I Should Know?
Those methoxypyrazines, the ones creating the notes of green capsicum in your wine? They help act as Cabernet Franc's natural insect repellent! (Please don't try using the wine in place of your favourite mozzie spray!).
Thirsty?
OK so there's not a lot grown in Australia but we love it so we do try to keep some on hand, both produced locally and from further afield!
* Check out Wine Australia's Vintage Survey for the latest numbers for your favourite grape variety.