(4 minute read)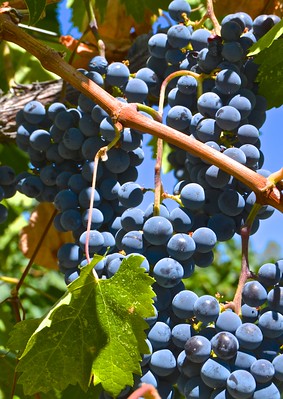 International Cabernet Sauvignon Day is almost upon us (3 September – or just behind us, as some people say it's 30 August!) so it's the perfect time for a quick primer on the world's most widely grown black grape. Yes, here in Australia Shiraz is the undisputed king of red wine (all wine?!) but for the rest of the world, it's a crown which rests squarely on Cabernet Sauvignon's shoulders.
Australia
In Australia we have roughly 25,000ha of Cab Sav planted, making up just over 18% of all plantings and almost 30% of black grape plantings. The Riverland, Murray-Darling and Riverina come in as the top regions for crush – at first I found this a little surprising but Cab Sav is pretty easy to grow and is used a lot for bulk wines (yes, you can buy a bottle of Cabernet for less than $5 …). The Coonawarra (a much smaller region) does come in fourth but Margaret River doesn't make the top 5.
For comparison – Shiraz accounts for 46% of our black grape plantings … there's not too much room for everything else!
The World
The question is more 'where is Cabernet NOT grown?' … because, really, Cabernet is loved the world over. It's found throughout south-west France – most famously in Bordeaux, and there are plantings throughout Europe. From the usual suspects (Italy, Spain, Portugal) to much further east (Ukraine, Russia, Moldova …) you'll find Cabernet Sauvignon being grown. Similarly, when we head the Americas we find it hugely popular. It's only once we hit the cooler climate of New Zealand that we find Cab Sav less well-represented.
The Key Facts
Cabernet Sauvignon is the offspring of Cabernet Franc and Sauvignon Blanc
The grapes are small and thick-skinned so it produces densely coloured wines with high tannins
Key descriptors include blackcurrant, mint (menthol, eucalypt), green capsicum, cedar and more blackcurrant
The oldest planting in the world is Penfold's Kalimna Block 42, (here in SA!) planted in the 1880s.
Key Australian regions are the Coonawarra (SA), Margaret River (WA), Limestone Coast (SA), McLaren Vale (SA) and the Yarra Valley (Vic). Also look out for wines from Great Southern (WA).
Food Pairing
Thanks to Cabernet's high tannins it's an amazing wine to pair with anything high in protein. Its very intense palate means that it can handle that char-grilled steak while the lively acidity will work beautifully with a hard cheese. It's a food-friendly wine – just steer clear of anything delicate because the wine will swamp it!
You might want to avoid spicy (chilli) foods (the tannin will enhance the spice, the spice will enhance the tannin – you'll know if this is your thing or not!) and I'd avoid pairing it with oily fish – the tannins can make everything seem a bit metallic.
Anything Else I Should Know?
Cabernet is really commonly blended with other black grapes. The typical Bordeaux blend is Cabernet Sauvignon and Merlot (with a few friends) and in Australia we love to blend Cabernet with (you guessed it!) Shiraz.
Thirsty?

Our budget pick is the Forest Hill Highbury Fields at just $24 a bottle. From WA's Great Southern, this wine is just delicious and absolutely over-delivers. Pop some away and revisit in 5, 10 or even 15 years time.

Our luxe pick is the Bellwether Cabernet Sauvignon from the Coonawarra ($70). A 2014 it's drinking beautifully now but still has cellaring potential.
You can browse all our Cabernet Sauvignons (and Cab Sav blends) here.