Last Monday (10 Feb 2020) Sommeliers Australia hosted a Riesling tasting at Mother Vine in Adelaide's East End. There was a group of about 15 of us, including John Hughes (Mr Rieslingfreak himself) and Phil Lehmann – who were on-hand to offer some of the more technical insights into the wines.
We started off on some very familiar territory, with John's 2018 No 2 Clare Valley Riesling and the Pewsey Vale 1961 Block 2017 from the Eden Valley. This pairing prompted the obvious question from the somms in the group about how to pick the difference in a blind tasting. The thoughts on the day were that Eden Valley is often more delicate, showing jasmine, green lime and even Bickford's lime cordial, often a little more saline and showing more talc, while Watervale wines (in particular) are more powerful and edge towards the lemon end of the citrus spectrum. That's not noticeably reflected in my tasting notes from the day but if you are training yourself up for blind tastings, those little differences (eg lemon vs lime) are good ones to remember and look out for. And it's definitely going to be an excuse for me to open a Watervale and an Eden Valley Riesling side by side some time in the near future!
The next (bonus) bracket was another couple of SA Rieslings – Petaluma's Hanlin Hill (Clare) and Phil's Max & Me (Eden Valley) – both 2019s . In this bracket, I felt the Max&Me did show more of the chalky/talc character.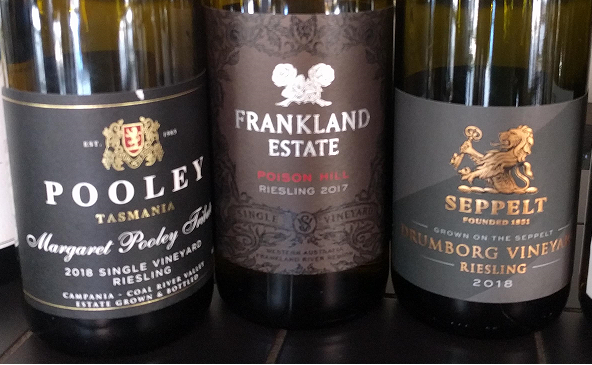 We then moved on to 'Other Australian Riesling' – the 2018 Pooley Margaret Pooley Tribute from Tasmania (my pick in this bracket, and possibly in the whole tasting, possibly as I'm not familiar with Tasmanian Riesling and this was great!), the 2017 Frankland Estate Poison Hill from Great Southern in Western Australia (also delicious – and my notes suggest it may look even better with oysters) and the 2018 Seppelt Drumborg from Henty in Victoria.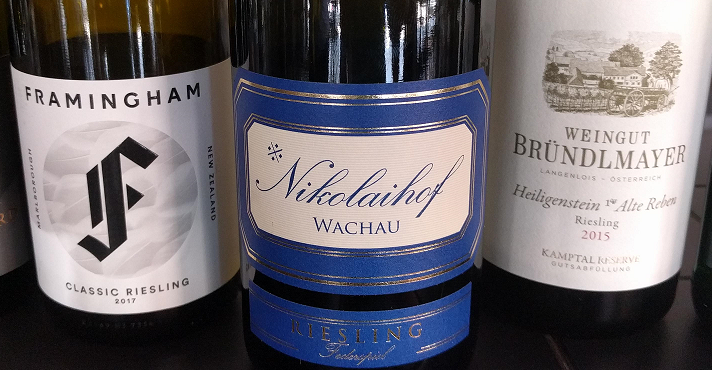 Next up, on to NZ and Austria. This was an interesting line up – the 2017 Framingham Classic from NZ was noticeably different from the two Austrian wines. There was definite sugar weight on the palate (I haven't been able to find exactly what the RS is on this) and the fruit was almost swerving into stone and tropical fruit. The sugar was (as you'd expect) perfectly balanced by the acidity – and this was another great discovery for me.
The two (dry) Austrian wines, 2016 Nikolaihof Vom Stein Federspiel from the Wachau (say that three times fast!) and the 2015 Weingut Bründlmayer Heiligenstein 1er Alte Reben from the Kamptal were much more challenging wines. Both took a little while to open up and while I felt the Nikolaihof was a really interesting wine, it wasn't really my cup of tea – although it did have some big, big fans at this tasting. The Bründlmayer was quite a bit more savoury and probably another good food wine.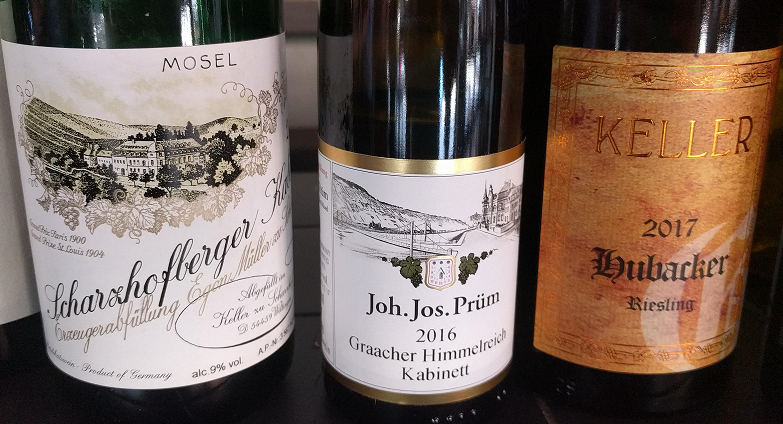 Now, talking of wines taking a while to open up … we moved on to the German bracket and there ensued a really fascinating discussion about the use of sulphur. That probably warrants a whole other blog post but our first two wines were LADEN with it AND THIS IS NOT A BAD THING. Sulphur is in everything (and generally in far higher concentrations than in wine) – if you have a sulphur allergy, you will know about it. If you get a headache from wine … it's not sulphur. Both the 2016 Egon Müller Scharzhofberger Kabinett and the JJ Prüm Graacher Himmelreich Kabinett needed a good lot of glass swirling and time in order for the sulphur to blow off. But blow off it does and you are then well-rewarded. I'm not sure I can write in an unbiased way about either of these wines as I have plenty of very positive memories associated with both producers – but I'll give it a go. The Müller was all green apple, apple skin, a touch of saltiness (maybe think preserved lemon) and amazing length with a touch of smokiness on the finish. I've tried a few vintages of this now and it always seems to be such a beautiful, ethereal wine.
The Prüm was more sherbet, lemon curd and floral (honeysuckle) but again with great length.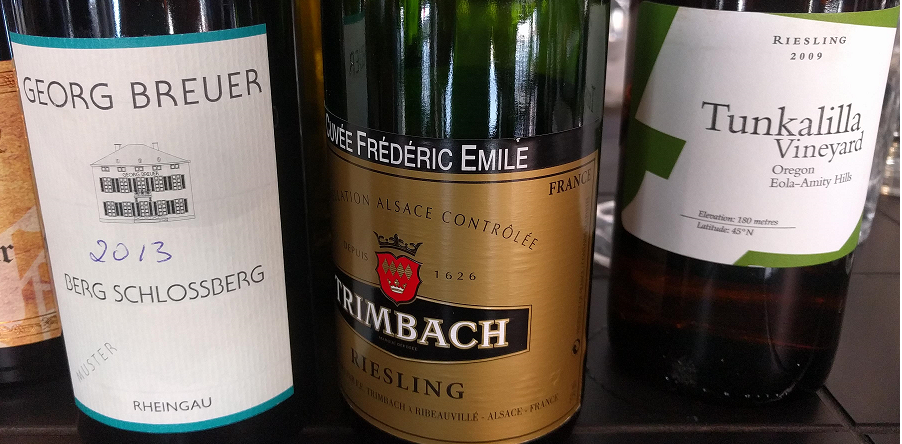 The final wine in this bracket was a bone dry 2017 Keller Dalsheim Hubacker Trocken GG from the Rheinhessen, Germany's warmest Riesling producing area. Much, much less sulphur and a bone dry wine with searing acidity and a spicy, green apple skin, pithy palate. Given that the tasting was geographically grouped, I understand why it sat next to the Müller and Prüm but I think a really interesting comparison would have been to have it alongside the first two South Australian Rieslings, with whom it probably had more in common style-wise than the other two German Rieslings.
The last bracket was a look at aged Rieslings from a few places – Germany, the Alsace (France) and Oregon (US). The pick of this bracket was the 2013 Georg Breuer Berg Schlossberg from the Rheingau in Germany. Apparently this winery uses a lot of old oak and a very traditional approach to winemaking – amazing length, with lots of Granny Smith apple, without the super aggressive acidity of the Keller in the previous bracket. The last two wines (2010 Trimbach Cuvée Frédéric Emile from the Alsace and the 2009 Tunkalilla Vineyard from Oregon) were both a little underwhelming. I wondered if the Trimbach had hit something of a flat spot although someone commented that they thought there was some premature oxidation (prem-ox for the cool kids) as it had a definite touch of the bruised apple character about it. The Tunkalilla felt a little simple – pleasant enough but not wowing anyone in the way some of the other wines had. Someone mentioned 'spiced pear' which I felt was close – think apple crumble or frangipane (the pastry, not the flower!). However, this assessment is pretty brutal because this wine actually sits at around $40 retail … considerably cheaper than some of the other wines!
In the space of 2 hours we tasted through 16 wines and had interesting discussions about sulphur, cork, Riesling grapes themselves, wine making … I've really only covered off my tasting notes in this post!
SommsAust events (and others like these) are always worth going to – it's a very different kind of discussion than you have in consumer-focussed events and while you might find that some of the winemaking detail (and acronyms!) goes over your head you get to taste a really broad range of wines and the selection has always been thoughtfully put together.
We're very lucky to have plenty of Rieslings in stock – including limited quantities of FOUR vintages of the Egon Müller. If you've got any questions about Riesling, or a particular wine you'd like to track down – then definitely let us know – either in the comments below or by contacting us.