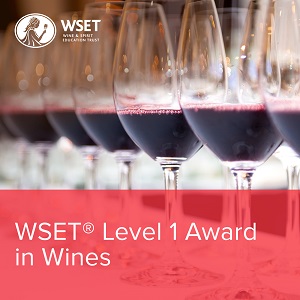 Maybe you've just signed up for the WSET Level 1 Award in Wines class or perhaps you're thinking about taking that first step in the WSET journey. Either way – this blog post is for you!
On completing check out you should receive two emails – the first will be the payment receipt email and the second will be a confirmation email with some details about the course. If you haven't subscribed to our email list then this second email is sent manually so there might be a delay – keep an eye out for it! Sometimes emails do end up in spam so if you haven't received anything then your junk/spam folder is an excellent place to look.
Approximately a week before the course, you'll receive an email with all the final details. This includes important details about how to find the venue, parking and a reminder to bring along photo ID. This last point is really critical – we can't let you sit the exam without it!
On the day of the course, please endeavour to be on time! You don't need to be super early but aim to arrive at about 5 to 9. If you are running late (and we get it – these things happen), please send a text so we know whether you're 5 minutes or 2 hours away! This is a courtesy to both the person teaching the course and your fellow classmates.
When you arrive, you're welcome to start the day with a coffee (or tea or other beverage of choice).
After starting with introductions, we then get into the serious side of things! Every student receives the textbook, as well as a handout, a wine list and a pen. You literally do not need to bring anything other than your photo ID. However, a lot of students do bring their own notebook or tasting book and pens/pencils. It's up to you!
The first part of the day is quite a lot of talking but don't worry – we do taste wines! We generally taste seven wines (covering off the major grapes and styles) and you will have a spittoon. Please make sure you spit (after all, you have an exam at the end of the day!) and also keep yourself well-hydrated. We have water and glasses on all tables.
Around 1230 we break for lunch. This is included so please make sure you let us know of any dietaries at the time of booking. After lunch, there's an option for another coffee before we head back to the classroom.
In the afternoon session we delve into food and wine pairing that includes a fun, interactive exercise. Then, we've got a practice exam, some revision time and then … the real thing.
For your exam, again – aside from your photo ID you don't need to bring anything. We supply the pencils and erasers. The exam is a 30 multiple-choice question exam. The pass mark is quite high – 70% or 21/30 so make sure you read the questions and answers carefully AND make sure you answer everything!
It is a closed book exam and you're not allowed any devices or paper etc. You are allowed to write on the question paper and a lot of people find that really useful in terms of eliminating incorrect answers and so on.
You have 45 minutes to complete the paper – some people will finish earlier than others but don't worry! You're not inconveniencing your tutor by being the last to finish and it's definitely NOT a race to see who will finish first!
You can expect to be finished by 5pm at the latest. Then – if you wish – take yourself to the bar downstairs!
When you're finished, you need to hand in both the answer paper and question sheet. These are then returned to the UK for marking. We send the papers International Express so they are tracked the whole way and get back as quickly as possible (obviously covid delays make some journeys less 'express' than others …). The WSET's current SLA for issuing results is 6 weeks from receipt – so we ask students not to email us the next day asking for results!
The results are emailed to us and we'll email you. The certificates follow shortly after that and when we receive your certificate we'll be in touch to confirm the best postal address. Please do let us know your address as promptly as possible – every now and then we find ourselves holding on to certificates for years!
We hope this information is useful and gives you a good idea of how the day will run. If you have any questions, please just get in touch!