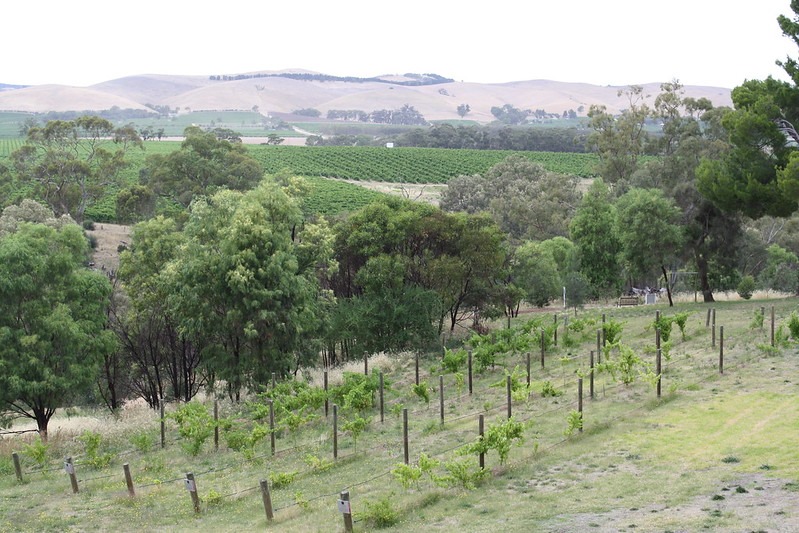 Our first virtual masterclass was a great way to kick off Easter. Themed Shiraz: Barossa v Hunter we were very lucky to have Iain Riggs AM (managing director, chief winemaker & co-owner of Brokenwood) join us and provide some great insights into not only Hunter Shiraz but also Shiraz and winemaking in general.
With people from all over Australia joining in (big shout out to Tasmania, Victoria and Queensland!) we ended up having no shortage of questions and comments. The two wine pairings were:
After a quick overview it was tasting and discussion time. Here are some of the highlights …
One of the characteristics of Shiraz is a peppery aroma and flavour, imparted by the chemical rotundone. While generally more pronounced in cooler climate Shiraz, not everyone can detect it … (You can test yourself by sticking your nose in some freshly ground black pepper!)
Iain talked a lot about the building of layers of aroma and flavour in winemaking. A couple of questions really highlighted this – one about the use of multiple grapes in blends (for example a Cabernet Shiraz blend) and one about the use of whole bunches in Hunter winemaking (generally not whole bunch because the wines are already a bit lighter and greener and you'd run the risk of things being too stalky, but quite a lot of whole berry). Of course, the use of oak was also discussed in this context, with some Hunter (even Brokenwood) Shirazes ending up almost no oak – again due to the lighter character of the wine.
The Hunter Shirazes both looked very different to the much bigger, juicier Barossa Shirazes. Even though the John Duval style is a bit less full on than some producers, it was still a noticeably bigger wine than the Brokenwood (similarly for the Sons of Eden vs First Creek pairing). One thing that the Brokenwood was praised for by many in the group was its balance and very fine acidity, which gave it great length.
After about an hour we wrapped up with Iain projecting (green-screen style) an image of the Brokenwood vineyards, pointing out the Graveyard vineyard and enabling those of us not familiar with the Hunter a bit of an insight into terrain and geology.
Tickets are now available for our next masterclass (Meet the Italians), Thursday 7 May 2020 at 6pm (Adelaide time). Prices start at $5.