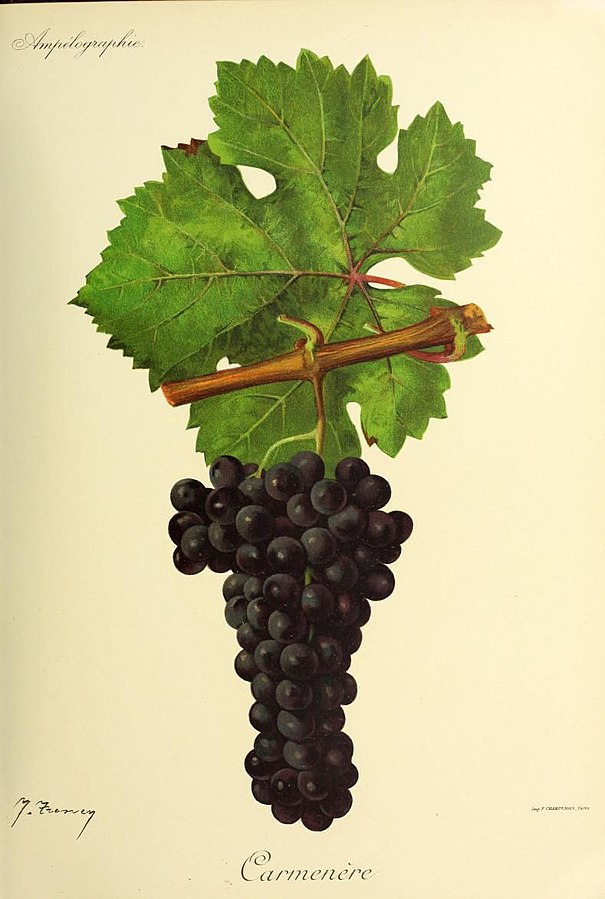 3 minute read
last updated 6 September 2023
Don't fancy reading? Check out the video on our youtube channel!
This post was supposed to be about a grape variety beginning with 'D' (you know – so it flowed nicely from Cab Franc …) but it turned out we had some Carmenère coming into the shop and … well, it's still all in alphabetical order.
Carmenère, a cross between Cabernet Franc and Gros Cabernet, is a grape variety that hails from Bordeaux (so historically part of a Bordeaux blend dominated by Cabernet Sauvignon and Merlot) although there it has steadily been falling out of fashion. Globally, small pockets of it are grown in many wine producing countries but the place where it really thrives is Chile.
Vines were brought to Chile in the nineteenth century (along with Merlot) and really blossomed in the warm and dry climate. In fact, for a long time, everyone (including the Chileans) thought they were growing Merlot exclusively. In the mid-90s an ampelographer spotted the difference between the two 'Merlots' and, following DNA analysis, Carmenère was recognised as an official variety for Chile in 1998.
When this happened – plantings shot up and today, Carmenère is more synonymous with Chile than any other country.
Its flavour profile can be rather green if picked a little unripe – think lots of green capsicum and herbaceous notes. But, as it ripens, red berry flavours develop before morphing into blackberry, blueberry and even chocolate and coffee.
Australia
There's not a lot here … but there's a little grown in places as diverse as the Adelaide Hills through to the Barossa, Granite Belt and Heathcote. It's one of those wines that to find a local example, you really will have to keep your eyes peeled.
The World
Well, there's obviously Chile!
There's also tiny amounts grown in Italy (where it has been confused with Cabernet Franc), the US and even Canada. But perhaps the most left-field region in which it's found is China's Jiaodong region. In fact, China's plantings outstrip everyone else's except Chile! In China, it is often known by one of its synonyms: Cabernet Gernischt.
The Key Facts
Carmenère ripens quite late and is, unfortunately, quite susceptible to disease which has contributed to dwindling plantings in Europe
key descriptors are blackberry and blueberry
like Cabernet Franc – if not fully ripe you will get those notes of green capsicum – some people love that, some not so much
key region is Chile
Food Pairing
Because Carmenère is big in flavour but not usually super tannic it works well with any boldly flavoured dish, and you can throw curries and other spiced (and spicy!) dishes into the mix. To riff on things Latin American, why not pair with a chilli con carne or a steak with lashings of chimichurri sauce?
Anything Else I Should Know?
Its name, Carmenère, derives from the French for crimson, carmin. But this doesn't refer to the colour of the grapes or the wine … instead, it's the colour the leaves turn in Autumn!
Thirsty?
We'll be keeping our beady eyes out for local examples (or, wines that at least feature Carmenère), but in the meantime, enjoy this Chilean example!